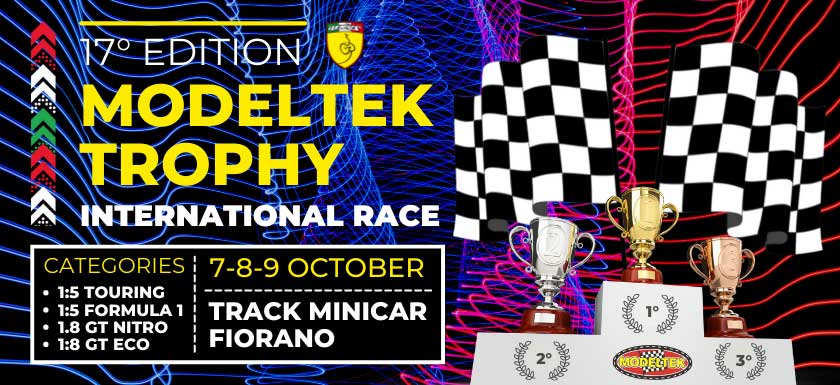 Registrations are open!
If you will be the fastest to subscribe for each of the following categories, you can win a fantastic surprise gift offered by us!
Category 1/5 Touring – Category 1/5 Formula 1 – Category 1/8 GT
---
For organizational reasons we are forced to limit the entries for this year's race to a maximum number of 88 total participants
SUBSCRIBE NOW
BENVENUTO / WELCOME
In arrivo il Trofeo Modeltek 2022!
Quest'anno la manifestazione giunge alla 17° edizione. L'evento si svolgerà il 7-8-9 Ottobre 2022 presso il Mini Autodromo Jody Scheckter di Fiorano Modenese (MO).
Le categorie di automodelli in gara comprenderanno quest'anno, oltre che le tradizionali 1/5 Touring (Hobby e Elite) e 1/5 Formula 1, anche l'1/8 GT sia Nitro che Elettrico.
Le iscrizioni si apriranno dal 1° Settembre su questo sito.
Vi aspettiamo numerosi!
Pronti a dare gass?
————
The Modeltek 2022 Trophy is coming!
This year the event reaches its 17th edition. The event will take place on 7-8-9 October 2022 at the Jody Scheckter Mini Autodrome in Fiorano Modenese (MO).
The categories of model cars competing this year will include, in addition to the traditional 1/5 Touring (Hobby and Elite) and 1/5 Formula 1, also the 1/8 GT both Nitro and Electric.
Registrations will open from 1st September on this site.
We hope many of you will come!
Ready to gass?

RACE RULES
CATEGORIES
1/5 touring elite class
1/5 touring hobby class
1/5 Formula 1
1/8 GT Nitro
1/8 GT Eco
PROGRAM
Friday 7 October – Controlled free practice
Saturday 8 October – Qualifications
Sunday 9 October – Finals + prize ceremony
FORMAT VALID FOR ALL CATEGORIES
Qualifications – Will be done with the "round-by-round" points formula. At each qualification the driver will be assigned a score based on his placement. At the end of the qualifications the scores will be added up to form the final ranking with the difference of one qualification.
QUALIFICATION POINT SCHEME: After each round of qualification the drivers will receive the points based on their results: 1st place will get 0 points, 2nd place 2 points, 3rd place 3 points, 4th place 4 points etc. After all the qualification rounds the points from the counted rounds (best ones) will be summed and the driver with less points will be TQ. 3 best qualification rounds out of 4 are valid for the qualifying classification (based on points).
Finals A B C D – 30 minutes finals will be made for each category done with the "bump-up" formula. The first driver will pass to the next final.
For the 1/8 Eco category, on the other hand, there will be 3 scoring finals, of which the best 2 will be considered.
DURATION
QUALIFICATIONS
Category 1/5 – 10′
Category 1/8 GT Nitro – 7'
Category 1/8 GT Nitro – 6'
FINALS
Category 1/5 and 1/8 GT Nitro – 30′
Category 1/8 GT Eco – 6'
TECHNICAL INSPECTION
1/5 RC cars
During the race the 1/5 scale model cars will be subjected to technical inspection.
The engine must be punched on Saturday morning from 8:00 to 9:30, before the start of the first qualifying. The RC car will also be stamped. Weight and track will be checked. The bodywork will also be punched.
1/8 RC cars
During the race it will be verified that the 1/8 model cars comply with the EFRA regulation

The RC car will be stamped by verifying the weight. The body will be punched. We remind you that the regulation provides for a 3.5 CC motor with a maximum of 5 lights, and this will be verified by sample.

For the GTC8 Eco the battery voltage will be checked before starting each qualification or final. Remember that the voltage must not exceed 8.40 Volts.

PERMITTED FUEL

Any brand of 16% EU will be accepted, which will be verified with Nitro Max homologated.
The tank will be measured and punched for 150ml.
TIRES
The tires will be parc fermé, stamped.
All competitors will have at their disposal 4 pairs of tires of their choice, with PMT or GRP brand, for the four qualifying round by round.

The tires will be sold by the race direction at the price of:
15.00 Euro for the GTC8 (pair)
30.00 Euro for 1/5 TC (pair)
37.50 Euro for 1/5 F1 (pair)
For the finals and the related bump ups it will be possible to buy an additional train.
For the electric GTC8 Eco it will be possible to buy 3 pairs of tires to compete in the 3 finals.


COMPOUNDS AVAILABLE
PMT
1/8 GT
Q3
Q5
1/5 TC
Slick Soft
Slick Super Soft
Slick Ultra Soft
GRP
1/8 GT
GTJ03-XM2
GTJ03-XM3
1/5 TC
GWH03-XM1
GWH03-XM2
GWH03-XM3
RACE PROGRAM
FRIDAY 7 OCTOBER
Free practice divided by time:
25 minutes – 1/5 GT
20 minutes – 1/8 GT8
15 minutes – 1/5 F1
From 9:00 to 18:00 → Registration
SATURARDAY 8 OCTORBER
8:00 – 9:30 Registration and stamping of model cars
9:30 – 15:50 Three qualifying rounds
16:00 – 17:00 Apetizer aperitif (track closed)
17:00 – 18:00 Free practice
SUNDAY 9 OCTOBER
9:00 – 11:00 Four qualifiers
11:30 – 16:50 Final / Finals
17:00 Final podium ceremony
Please note that the technical suspension will only be available for the A finals
RULES
The EFRA technical rules will be adopted at all stages of the competition, with the exception of the exceptions listed above.

REGOLAMENTO
CATEGORIE
1/5 Touring – Classe Elite
1/5 Touring – Classe Hobby
1/5 Formula 1
1/8 GT Nitro
1/8 GT Eco
PROGRAMMA
Venerdì 7 Ottobre – Prove libere controllate
Sabato 8 Ottobre – Qualifiche
Domenica 9 Ottobre – Finali + premiazione
FORMAT VALIDO PER TUTTE LE CATEGORIE
Qualifiche – Verranno disputate con la formula "round-by-round" a punti. Ad ogni qualifica verrà assegnato al pilota un punteggio in base al piazzamento. Alla fine delle qualifiche i punteggi verranno sommati per formare la graduatoria finale con lo scarto di una qualifica.
SCHEMA DEL PUNTEGGIO IN QUALIFICA: Dopo ogni round di qualificazione i piloti riceveranno i punti in base ai loro risultati: 1 ° posto otterrà 0 punti, 2 ° posto 2 punti, 3 ° posto 3 punti, 4 ° posto 4 punti ecc. Dopo tutti i round di qualificazione, i punti dei round contati (i migliori) verranno sommati e il pilota con meno punti sarà TQ. 3 migliori turni di qualificazione su 4 sono validi per la classifica di qualificazione (basata sui punti).
Finali A B C D – Verranno disputate finali di 30 minuti per ciascuna categoria con la formula "bump-up", in cui il primo concorrente passa alla finale successiva.
Per quanto riguarda la categoria 1/8 Eco invece verranno disputate 3 finali a punteggio, di cui verranno considerate le 2 migliori.
DURATA
QUALIFICHE
Categoria 1/5 – 10′
Categoria 1/8 GT Nitro – 7'
Categoria 1/8 GT Eco – 6'
FINALI
Categoria 1/5 e 1/8 GT Nitro – 30′
Categoria 1/8 GT Eco – 6'
VERIFICHE TECNICHE
Automodelli 1/5
Durante la gara gli automodelli 1/5 verranno sottoposti a verifiche tecniche da giudici di gara.
Il motore dovrà essere punzonato sabato mattina dalle 8:00 alle 9:30, prima dell'inizio della prima qualifica. Anche l'automodello sarà punzonato. Verranno verificati peso e carreggiata. Anche la carrozzeria verrà punzonata.
Automodelli 1/8
Durante la gara verrà verificato che gli automodelli 1/8 siano conformi al regolamento EFRA

Sarà punzonato l'automodello verificando il peso. Sarà punzonata la carrozzeria. Ricordiamo che il regolamento prevede un motore 3,5 CC con massimo 5 luci, e ciò verrà verificato a campione.

Per la GTC8 Eco verrà verificata la tensione delle batterie prima di iniziare ogni qualifica o finale. Si ricorda che la tensione non deve superare 8,40 Volt.


MISCELE AMMESSE

Saranno ammessa qualsiasi marca di 16%EU, che verrà verificata con Nitro Max omologato.
Il serbatoio verrà misurato e punzonato per 150 ml.
GOMME
Le gomme saranno a parco chiuso, punzonate.
Tutti i concorrenti avranno a disposizione 4 paia di gomme a scelta, con brand PMT o GRP, per le quattro qualifiche round by round.
Le gomme verranno vendute dalla direzione gara al prezzo di:
15.00 Euro per le GTC8 (paio)
30.00 Euro per le 1/5 TC (paio)
37.50 Euro per le 1/5 F1 (paio)
Per le finali e per i relativi bump up sarà possibile acquistare un treno aggiuntivo.
Per l'elettrico GTC8 Eco sarà possibile acquistare 3 paia di gomme per disputare le 3 finali.

MESCOLE DISPONIBILI

PMT
1/8 GT
Q3
Q5
1/5 TC
Slick Soft
Slick Super Soft
Slick Ultra Soft
GRP
1/8 GT
GTJ03-XM2
GTJ03-XM3
1/5 TC
GWH03-XM1
GWH03-XM2
GWH03-XM3
PROGRAMMA DI GARA
VENERDì 7 OTTOBRE
Prove libere suddivise a tempo:
25 minuti – 1/5 GT
20 minuti – 1/8 GT8
15 minuti – 1/5 F1
Dalle ore 9:00 alle ore 18:00 → Registrazione
SABATO 8 OTTOBRE
8:00 – 9:30 Registrazione e punzonatura automodelli
9:30 – 15:50 Tre round di qualifiche
16:00 – 17:00 Apetizer aperitivo (pista chiusa)
17:00 – 18:00 Prove libere
DOMENICA 9 OTTOBRE
9:00 – 11:00 Quattro qualificazioni
11:30 – 16:50 Finale/Finali
17:00 Cerimonia finale podio
Si ricorda che la sospensione tecnica sarà richiedibile soltanto per le finali A
REGOLAMENTO
In tutte le fasi di gara verrà adottato il regolamento tecnico EFRA , ad eccezione delle deroghe qui riportate
QUOTA DI ISCRIZIONE
La quota di iscrizione è di € 45,00.
Iscriviti ora
SITO WEB
Scopri il mondo di Genius Racing
Genius Racing, uno dei brand più conosciuti nel settore dell'automodellismo da competizione in scala 1:5. Grazie agli anni di esperienza e alla nostra grande passione siamo in grado di ideare, progettare e realizzare prodotti di qualità, apprezzati da piloti e modellisti di tutto il mondo.