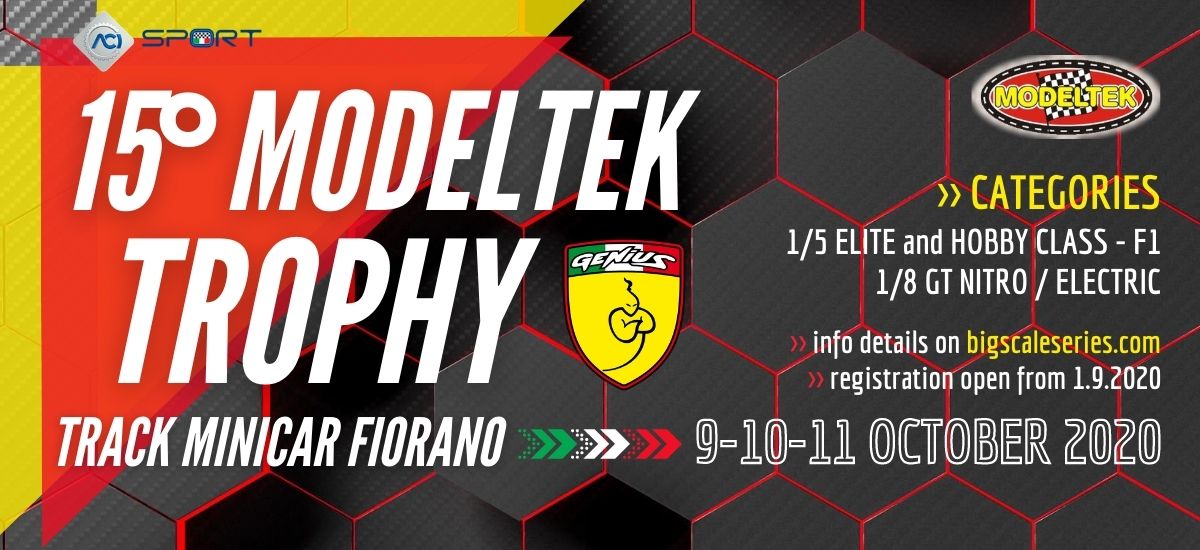 BENVENUTO/WELCOME
Nonostante tutto, la nostra passione per il modellismo ci porta ad organizzare anche quest'anno il Trofeo Modeltek, ma con le dovute precauzioni ed attenzioni. Sarà l'occasione per incontrare nuovamente e dopo tanto tempo i nostri amici nel pieno rispetto delle regole Anti-Covid. Per questo puoi trovare qui sotto le semplici regole per tornare a divertirti e a competere.
——————
In spite of everything, our passion for modeling leads us to organize the Modeltek Trophy again this year, but with due precautions and attention. It will be an opportunity to meet our friends again and after a long time in full compliance with the Anti-Covid rules. So you can find below the simple rules to get back to having fun and competing.
TESSERA/FEDERATION CARD
Per partecipare alla gara, i Piloti Italiani dovranno essere in possesso della tessera ACI o UISP
ed esibirla alla direzione gara al momento della registrazione. Ai piloti esteri non sarà richiesto nessun tesseramento.
——————–
To participate in the race, Italian drivers must be in possession of the ACI or UISP card
and show it to the race direction at the time of registration. No card will be required for foreign pilots.
CATEGORIE(S)
1/5 touring elite class
1/5 touring hobby class
1/5 Formula 1
1/8 GT8 Nitro
1/8 GT8 Electric
AUTOMODELLI/MODELS
Sono ammessi gli automodelli in scala 1/5 on-road 2WD, con telaio passo minimo 460 e massimo 535 mm., e peso minimo 10 Kg / massimo 12 Kg.
Automodelli 1/8 GT CARDANO – Peso 3500 gr. – Nitro 16% – Motore 5 Luci – Venturi 7 mm.
—————-
1/5 scale on-road 2WD model cars are allowed, with chassis with minimum wheelbase 460 and maximum 535 mm.
and minimum weight 10 Kg / maximum 12 Kg.
1/8 GT cars – Weight 3500 gr. – Nitro 16% – 5 Port Engine – 7 mm Venturi
PROGRAMMA/PROGRAM
Venerdì 9 Ottobre – 2 prove libere controllate + 1 qualifica
Sabato 10 Ottobre – 3 qualifiche + 1a Finale
Domenica 11 Ottobre – 2a Finale + premiazione
—————–
Friday 9 October – 2 controlled free practice + 1 qualificatio
Saturday 10 October – 3 qualifications + 1st Final
Sunday 11 October – 2nd Final + prize ceremony
NUOVO FORMAT VALIDO PER TUTTE LE CATEGORIE/NEW FORMAT VALID FOR ALL CATEGORIES
Qualifiche – Verranno disputate con la formula "round-by-round" a punti. Ad ogni qualifica verrà assegnato al pilota un punteggio in base al piazzamento. Alla fine delle qualifiche i punteggi verranno sommati per formare la graduatoria finale con lo scarto di una qualifica.
SCHEMA DEL PUNTEGGIO IN QUALIFICA: Dopo ogni round di qualificazione i piloti riceveranno i punti in base ai loro risultati: 1 ° posto otterrà 0 punti, 2 ° posto 2 punti, 3 ° posto 3 punti, 4 ° posto 4 punti ecc. Dopo tutti i round di qualificazione, i punti dei round contati (i migliori) verranno sommati e il pilota con meno punti sarà TQ. 3 migliori turni di qualificazione su 4 sono validi per la classifica di qualificazione (basata sui punti).
Finali – Verranno disputate due finali per ciascuna categoria (tre per la categoria 1/8 GT Elettrico), e i risultati verranno sommati per stabilire la graduatoria finale.
——————–
Qualifications – Will be done with the "round-by-round" points formula. At each qualification the driver will be assigned a score based on his placement. At the end of the qualifications the scores will be added up to form the final ranking with the difference of one qualification.
QUALIFICATION POINT SCHEME: After each round of qualification the drivers will receive the points based on their results: 1st place will get 0 points, 2nd place 2 points, 3rd place 3 points, 4th place 4 points etc. After all the qualification rounds the points from the counted rounds (best ones) will be summed and the driver with less points will be TQ. 3 best qualification rounds out of 4 are valid for the qualifying classification (based on points).
Finals – Two finals will be made for each category (three for the 1/8 GT Electric category), and the results will be added together to establish the final ranking
DURATA/DURATION
QUALIFICHE
Categoria 1/5 – 10′
Categoria 1/8 GT – 7′
FINALI
Categoria 1/5 – 20′
Categoria 1/8 GT Nitro – 20′
Categoria 1/8 GT Elettrico – 7′
——————-
QUALIFICATIONS
Category 1/5 – 10 '
Category 1/8 GT – 7 '
FINALS
Category 1/5 – 20 '
Category 1/8 GT Nitro – 20 '
GOMME/TIRES
I piloti avranno a disposizione 4 coppie di gomme per le 4 qualifiche. Le gomme dovranno essere acquistate presso lo stand dell'organizzazione e verranno punzonate. Per le Finali le gomme sono libere.
—————-
Drivers will have 4 pairs of tires at their disposal for the 4 qualifications. The tires must be purchased at the organization's stand and will be marked. For the Finals the tires are free.
VERIFICHE TECNICHE/TECHNICAL INSPECTION
Durante la gara gli automodelli verranno sottoposti a verifiche tecniche.
—————-
During the race the model cars will be subjected to technical inspection.
REGOLAMENTO/RULES
In tutte le fasi di gara verrà adottato il regolamento tecnico EFRA, ad eccezione delle deroghe qui riportate
—————-
The EFRA technical rules will be adopted at all stages of the competition, with the exception of the exceptions listed above.
QUOTA DI ISCRIZIONE/SUBSCRIPTION FEE
La quota di iscrizione è di € 50,00.
E' obbligatorio iscriversi e versare la quota di iscrizione tramite questo sito con Paypal o carta di credito.
Non sono accettate altre forme di iscrizione.
—————-
The registration fee is € 50.00
It is mandatory to register and pay the registration fee through this site with Paypal or credit card.
Other forms of registration are not accepted.
NUMERO MASSIMO DEI PARTECIPANTI/MAXIMUM NUMBER OF PARTICIPANTS
Per garantire la distanza di sicurezza e quindi la salute di tutti, il numero massimo dei partecipanti è 70
—————–
To ensure a safe distance and therefore everyone's health, the maximum number of participants is 70